The United Nations nuclear ban treaty

[QUOTE-START]
"Although nuclear weapons states may not sign up [to the new ban treaty], a treaty signed by the majority of countries will send a clear message that these weapons are morally and legally unacceptable". – Minute of the Peace, Education Campaigning and Networking sub-committee, October 2016
[QUOTE-END]
In 2017, negotiations at the United Nations resulted in the adoption of a treaty banning nuclear weapons. After months of talks, 140 member nations passed the treaty, meaning that 73% of 192 member nations support the ban. By September 2017, 53 nations had signed the treaty into force.
The development, testing, production, financing, transferring, stockpiling, use and threat of use of any nuclear weapon is now prohibited in the participating countries. This is the biggest step forward for nuclear disarmament campaigners in decades.
Quakers in Britain joined more than 440 non-governmental organisations in supporting the treaty, including the World Council of Churches. Our delegate represented a coalition of faith communities and helped frame how nuclear disarmament can be achieved over the coming months and years.
Having nonviolently opposed Britain's nuclear weaponry for over 60 years through public protest, direct action and political advocacy, Quakers are well known for their stance on disarmament and we continue to push for changes in the UK government's approach to the issue.
Lobby the UK government to take part in the ban treaty
The UK government, together with the US and most other NATO states, chose to boycott the nuclear ban negotiations despite long-standing UK government policy to support nuclear disarmament 'through a multilateral process'. However the UN treaty means there is cause for hope in encouraging real political engagement with the topic of nuclear disarmament.
We have produced a briefing that equips you with the information you need to persuade your MP or MSP to call for the UK's involvement in an upcoming UN meeting. The UN High Level Conference on Nuclear Disarmament will take place on 14–16 May 2018, and pressure from elected representatives will make the public demand for the UK government to participate clear. Read or download the printable briefing here (PDF).
If you write to your MP or MSP about nuclear weapons policy or meet them, please let us know through this form. This helps us to see what actions are being taken across the country.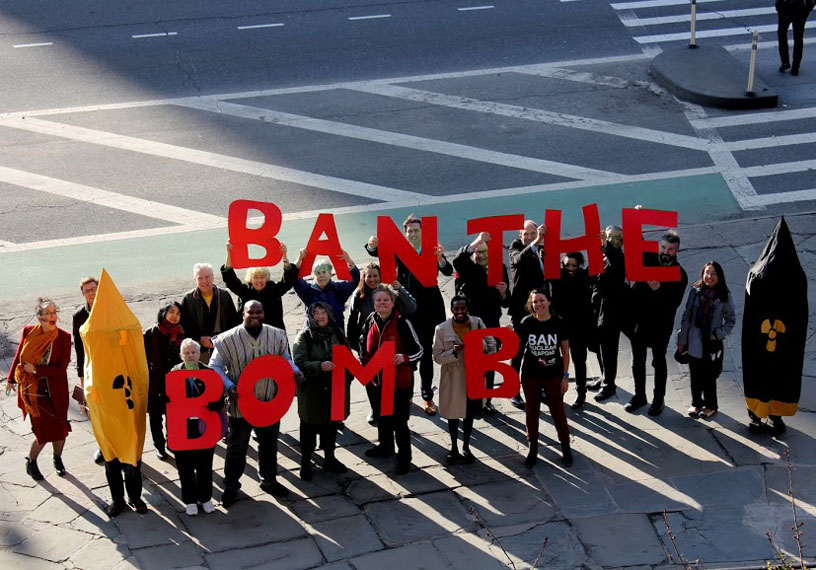 Quakers say 'Rethink Trident'

In July 2016 parliament voted to begin the process of upgrading the UK's Trident nuclear weapons system. Once renewed, it will have cost the UK an estimated £200 billion and will last well into the second half of this century. Quakers and millions of others in Britain continue to oppose Trident as unnecessary, unaffordable and utterly at odds with our commitment to peace, which allows no role for weapons of mass destruction.
How did we get here?
Britain detonated its first atomic bomb in 1952, and has retained nuclear weapons ever since. In 1968, Britain signed the Non-Proliferation Treaty (NPT), committing to disarm in 'good faith' and 'at an early date'.
The current Trident nuclear missile programme is expected to remain operational until the early 2030s, but which time the government now expects a new generation of Trident nuclear submarines to take their place. Meanwhile the Trident missiles themselves are being upgraded by the US and these will gradually replace the existing missiles. The nuclear warheads on top of the missiles are produced at Aldermaston, where there is a multi-billion pound programme already underway to design and develop a new set of warheads for the new submarines.
Working in partnership

Millions of people oppose nuclear weapons, as independent opinion polls (offsite link) show. Quakers in Britain are helping to build the movement that will scrap Trident, as one of 44 organisations, religious groups and trade unions joining together to show the UK government needs to Rethink Trident (offsite link).