To introduce newcomers
Advices & queries (offsite link)
Getting ready for Quaker worship (PDF)

'How Quaker meetings take decisions' (PDF)
'Living what we believe' (PDF)
Witnessing for peace on the centenary of World War I
A pack containing resources for your meeting, your children's meeting and for working with other groups marking the centenary. It includes a newspaper and peace education resources. To request a paper copy please contact the Quaker Centre.

The Testimony – 1914 – WWI newspaper (PDF)
The Testimony – 1915 – WWI newspaper (PDF)

The Testimony – 1916 – WWI newspaper (PDF)

1914-1918 timeline poster (PDF)

Running a WWI event leaflet (PDF)

Engaging journalists' interest leaflet (PDF)

Conscience and Conviction – WWI schools resources flyer (PDF) – hard copies of these resources can be ordered from the Quaker Centre Bookshop

A Subtle Resistance: Scraps from a Bootham Diary in the Great War [video] – a play by Bootham School, York

World War I: Stories of conscience [audio] – stories of conscience from those who fought and those who objected
White poppy leaflet
This A5 card details the origins and symbolism of the white poppy. The white poppy leaflet was published on behalf of General Meeting for Scotland. Produced with the Edinburgh Peace and Justice Centre and The Women's International League for Peace & Freedom. Physical copies can be ordered from the Quaker Centre or you can download the white poppy leaflet (PDF).
Outreach and introductory materials
All available to order from the Quaker Centre Bookshop.
Concertina leaflets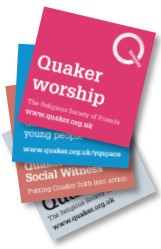 Attractive introductions to four contrasting areas of Quaker activity: Quakers, worship, children and young people, and Quaker Peace & Social Witness.
I am a Quaker... this is why...
This young people's outreach leaflet offers a brief history of Quakerism and thoughts from young Quakers on their faith, explores Quaker testimonies and gives examples of how beliefs might lead to action.
Who are the Quakers
A FREEPOST information pack request card for enquirers, new attenders and those interested in finding out more about Quakers.
Gold cards
These cards give six answers to the question 'What do Quakers say?' as well as providing details of how to obtain a free information pack.
Balloons
Green balloons with the Q logo for stalls, open days and Quaker social events.
Badges
'I'm a Quaker – ask me why' pin badges and plain magnetic Q badges. A low key way of being open about your faith or to identify Quakers at outreach events.
Forms and documents for meetings
Order for burial, interment or scattering of ashes (PDF) See chapter 17 of Quaker faith & practice (offsite link) for information on Quaker funerals and memorial meetings.