Silent protest against fracking
More than a hundred Quakers climbed windswept Pendle Hill on Saturday. For half an hour, they held a meeting for worship to protest against fracking. Only the skylarks and one or two friendly dogs interrupted their stillness.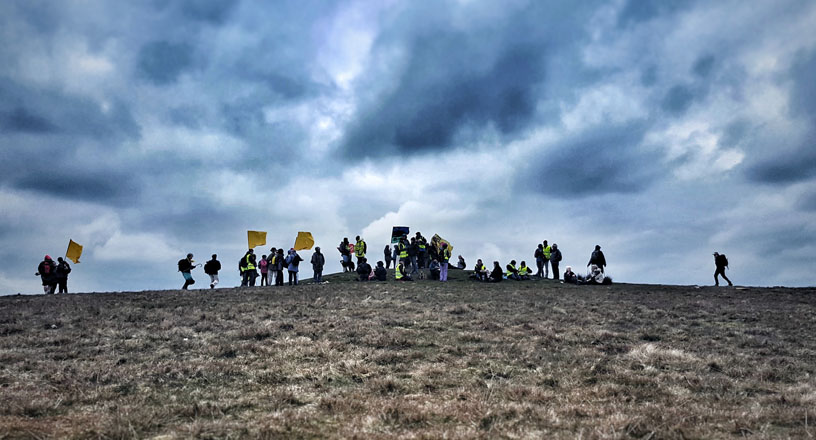 It was in 1652, on top of Pendle Hill in Lancashire, that George Fox was inspired to build a movement of people. He had a vision of a "great many people to be gathered" and, with others, founded the Quaker church.
Now Pendle Hill is in the midst of an area licensed for fracking. Quakers are calling for fracking to be banned – globally, not just in Lancashire – because the process damages the land, water and potentially food supplies.
Quakers in Britain are motivated by faith to cherish the earth for future generations and to speak out against climate injustice that causes huge inequalities across the world.
[QUOTE-START]
Silent protest is the ultimate in nonviolent direct action. Who can object to that?

- Quaker, protesting against fracking
[QUOTE-END]
Stephen Lee, one of the organisers from Pendle Hill Area Meeting, said he felt heartened and empowered by people's efforts to be there. They had come from far afield: from Scotland, Wales, Devon, Yorkshire, Cornwall, Cambridge, Lancashire and London. They included 89–year–old Brian Hopkins, an environmental scientist from Chichester. Some were from Friends of the Earth. Some spoke of their concerns about the environmental impact of fracking and possible seismic activity.
Stephen Lee said, "My faith led me to do this. We have been inspired to make a difference."
One moved by the experience said, "Silent protest is the ultimate in nonviolent direct action. Who can object to that?"
In 2011 Quakers made a commitment to take action to become a low-carbon, sustainable community.