Quaker Tapestry amazes and inspires
Hundreds of visitors have been moved and inspired this week by the Quaker Tapestry on display in Friends House.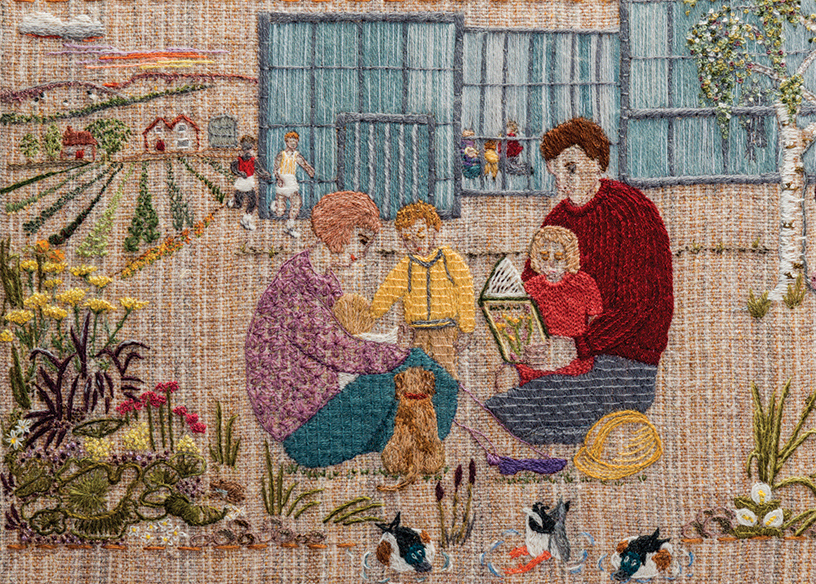 The Tapestry is a journey through the Quaker influence on the modern world and explores the industrial revolution, developments in science and medicine, astronomy, the abolition of slavery, social reform, and ecology.
The Tapestry began when a child in a Quaker Sunday school wanted an alternative to colouring-in. A simple idea grew into a worldwide project: 4,000 people in 15 countries took 15 years to create 77 panels, the core of the Tapestry. More panels are being created to record – in stitches – Quaker faith at work today. A new addition records the role of Quakers in an international programme to send human rights observers to Israel and Palestine.
Around twenty panels are on show in London. Visitors say they are moved by the stories of faith and by the scale of the community project. One described it as an amazing work of art and history.
Bridget Guest is manager of the Tapestry Museum in Kendal. On Saturday she ran a taster workshop in Friends House. Supplied with seat frames and hoops, calico cloth and crewel needles, a roomful of embroiderers, or would-be embroiderers, tried their hand at the basic stitches used in the Tapestry – stem, split, chain, Quaker, Bayeux Post and Peking Knot. Their concentration led to a communal hush.
Last few days: the exhibition in Friends House (opposite Euston Station) is open on Thursday, from 10am to 8.00pm and until 4.00pm on Friday 18 August. Then the panels return to the Tapestry's home in Kendal.