Beyond the Paris climate talks
Quakers want justice for those affected by climate change. The poorest are often the hardest hit by shifts in the climate. Globally they have less access to energy.
Led by their belief in equality, Quakers in Britain campaign for everyone to have access to affordable energy that does not harm the planet.
This weekend, ahead of the Paris climate summit, Quakers will join thousands across the world on the People's March for Climate, Justice and Jobs, They will call for climate justice.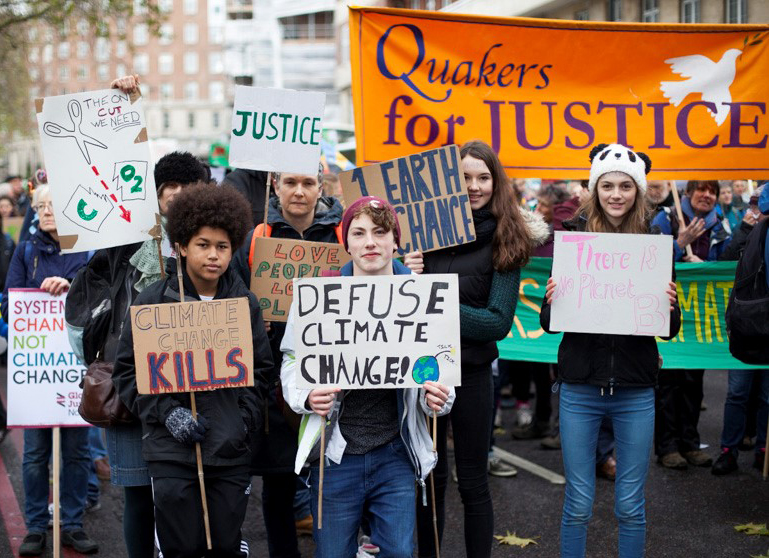 Why climate justice is about equality

Globally people have unequal access to energy
Those who have done least to cause pollution, suffer most
Wealth created by fossil fuel production is unequally spread
Climate justice is not just about science, but about politics and economics
[QUOTE-START]
We do not own the world, and its riches are not ours to dispose of at will. Work to ensure that our increasing power over nature is used responsibly, with reverence for life.

- Quaker faith & practice 1.02
[QUOTE-END]
What is the Paris climate summit?

The international climate talks, running from 30 November to 11 December, known as COP 21, aim to adopt a legally binding and universal climate change agreement. Failure to reach agreement could escalate poverty, migration and conflict.


How have Quakers been preparing?
Quaker United Nations Office (offsite linK) (QUNO) has been building bridges between diverse groups of negotiators at the climate change talks. QUNO is also working to get human rights language into the draft of a new climate change agreement.
What are Quakers doing?
Looking at principles for a new economic order, based on Quaker values.
Working with others to build a democratically controlled zero-carbon economy where all have access to affordable, clean energy.
"As Quakers we uphold those committed to negotiating a fair, ambitious and transparent deal in Paris. We see many challenges – not least ongoing dependence on fossil fuel-based energy and the fact that economic competitiveness (rather than climate science) still largely determines national negotiating positions. We will continue to peacefully advocate for climate justice and will work for transition to zero carbon economy." Helen Drewery, General Secretary of Quaker Peace & Social Witness