Marking an anniversary in Friends House
The first Yearly Meeting in Friends House, London, was held ninety years ago this week.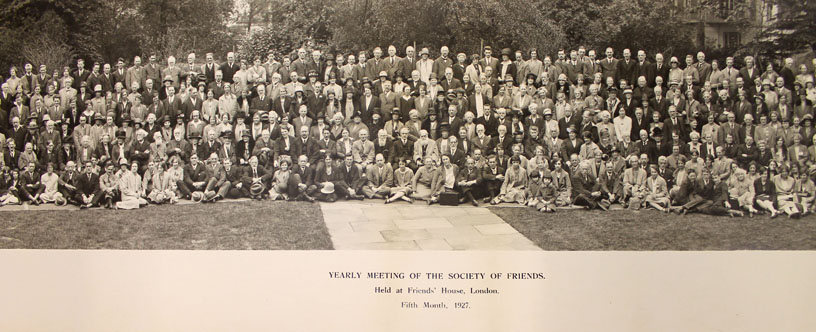 In 1911, London Yearly Meeting – now Britain Yearly Meeting – set up the Special Premises Committee to review office capacity in Devonshire Square. They opted for a purpose-built office and in 1923 Yearly Meeting Trustees made an offer of £45,000 for a suitable site at Euston's Endsleigh Gardens.
Today, Friends House is the venue for Yearly Meeting and has thriving conference facilities, centred on the large meeting house, known as The Light, along with the library, offices, smaller worship space, award-winning restaurant and café. It is run on sustainable and ethical grounds. The Dalai Lama and Mohandas Karamchand Gandhi have addressed peace rallies there.
[QUOTE-START]
We have faith, that as we keep tender to the leadings and guidings of God, and surrender ourselves to them as they come, he will open to us fresh service for the world.

- Yearly Meeting minute 1927
[QUOTE-END]
The Quaker architect of Friends House, Hubert Lidbetter, won the RIBA bronze medal in 1927 for the best building erected in London.
Construction of Friends House began in 1924 and the first Yearly Meeting there was in 1927 when Quakers were concerned about education, temperance, the Peace Testimony and their work among miners following the coal dispute.
According to the Friend the opening meeting for worship began at 5pm on Thursday, 20 May. The Swarthmore Lecture followed, given by Harry T. Silcock. The large meeting house was packed, says the Friend. "The main floor understood to hold 700 and the galleries a further 600. Every seat was occupied and fully 200 more sat on steps, stood at the back, crowded round doorways and even climbed on to the roof and listened in to the window tops."
Yearly Meeting 1927 made this concluding minute
"Meeting this year in our new house in London, with some thought of all that we have left behind, and much more for all that is before us, we have faith, that as we keep tender to the leadings and guidings of God, and surrender ourselves to them as they come, He will open to us fresh service for the world.
"The business of the Yearly Meeting being concluded we separate intending to meet in London at the appointed time next year, if the Lord permit." The clerk was Roger Clark.
What happens at Yearly Meeting?
Yearly Meeting is when Quakers in Britain come together to worship, make decisions and spend time as a community.
Book now for Yearly Meeting Gathering 2017
There is a great programme in place for Yearly Meeting Gathering 2017. This is at the University of Warwick in Coventry, from Saturday 29 July until Saturday 5 August. Already 1327 have booked to attend. Booking is re-opening and all are welcome. There are still a few places for children, more so for 11 to 17 year olds.
Bursaries are available for those needing financial help. Don't let money be an obstacle. Please talk to local overseers or contact Gary Mitchell at garym@quaker.org.uk or 020 7663 1006. Bursary application process for YMG 2017
All Friends and attenders are welcome. Attenders who want to attend sessions can do so with the permission of the Yearly Meeting Clerk. They should ask an elder at their local meeting to write a letter of support to the Yearly Meeting Clerks via Friends House.
Non-members who attend Young Friends General Meeting (YFGM) may ask a co-clerk of YFGM to support their attendance at Yearly Meeting in session. Elders' supporting letters should not come from immediate family.