Quaker Week 2017

2017 theme: In turbulent times: be a Quaker | 30 September - 8 October 2017.
Every autumn, we hold Quaker Week, a national event in which we encourage meetings to think about outreach and perhaps to organise an outreach event. Whilst many meetings do outreach all year round, Quaker Week offers a time to focus on all the things we do that enable people to discover more about Quakers and the Quaker way. This work is supported by a central campaign which this year included social media posts, press coverage and print plus online adverts.
#QuakerWeek is the hash tag to use on all social media platforms.

New resources are begin developed for 2017 and a poster and new leaflets will be sent direct to every local meeting clerk. In addition an outreach ideas pack and postcards to be sent out to local meeting clerks.
Reminder that meetings can request six information packs to give away to enquirers directly, email quakercentre@quaker.org.uk to request your packs.
Quaker Week 16 posters are still here:
A4 Quaker Week 2016 Posters
A5 Quaker Week 2016 Posters
Virtual presence
In 2017 we are looking to increase our outreach presence online. As part of this the outreach team now has a twitter account @knowmorequakers. Please do follow us and retweet content of interest to you or your followers - you can also tweet us questions.
Has your meeting thought about how findable it is online? Keith Walton of London Quakers is exploring meeting websites, you can read about this project in the latest Quaker Life Network Email. This project is being supported by Quakers in Britain but please contact Keith to get involved.
If your meeting would like help improving it's presence on facebook we can help you! We'll support meetings in setting up facebook pages, improving existing pages and increasing reach. If you are interested in this work please email jonm@quaker.org.uk.

Resources
Exhibition Materials
There are two different exhibitions for hire. Three identical sets based on the concertina leaflet 'Quakers', these are a full set of 18 square panels on foam board, 30 cm2, available to buy for £100 or hire for £22 (plus return postage). There is also a set of 22 picture panels based on quotes from Quaker Faith and Practice which are approximately 47cm by 32cm landscape and portrait and can be hired for £22 (plus return postage).
Order early for Quaker Week - limited stock. To hire contact the Quaker Centre Bookshop, quakercentre@quaker.org.uk, 020 7663 1030.
For more resources see the 'Resources for use by Quaker meetings' page.

Children's outreach materials
Quaker meeting and me
A guide for children to Quaker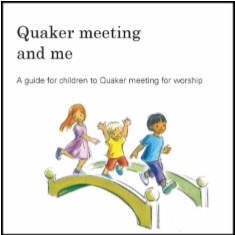 meeting for worship.
This booklet is intended to help children find a way into Quaker meeting for worship. Images from a garden are to illustrate different aspects of what is happening in meeting for worship.
It can be used as a starting point for conversation between children and adults, and also as a focus to help children settle and centre during meeting for worship.
Available from the Quaker Centre Bookshop, quakercentre@quaker.org.uk, 020 7663 1030.
Events for enquirers

Finding out about Quakers: a weekend for newcomers
These weekend events are for people who know little or nothing about Quakers, and for those who have been around Quakers a while and want to explore further. Come and discover more about core Quaker beliefs, experience Quaker worship and hear from Quakers how they live their lives.
Experienced facilitators from the Quaker Quest team guide these events. They will encourage you to reflect, ask questions and share your thoughts with others. Details about Charney Manor events here.