Search
Back to Catalogue: Newsletters and journals
Quaker News is a magazine about work Britain Yearly Meeting does on behalf of all Quakers in Britain. It is published three times a year.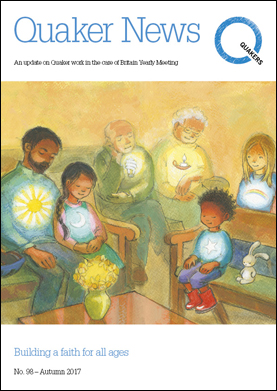 Current issue

Back issues

Quaker News 97 - Winter/Spring 2017
Get paper copies of Quaker News
Free paper copies of Quaker News are available in both standard-print and large-print versions. You can request copies by emailing qn@quaker.org.uk, phoning 020 7663 1157 or writing to Bex Gerrard, Communication & Services, Friends House, 173 Euston Road, London NW1 2BJ.
Get notifications about Quaker News
Follow us on Facebook or Twitter to get notifications when new issues of Quaker News come out. You'll also get press releases and other updates on Quaker work.
If you don't use Facebook or Twitter you can join our mailing list and receive Quaker News notifications in your email.