What's wrong with fracking?
Under the 2015 UN Paris climate agreement, the UK committed to cut greenhouse gas emissions in line with a 2°C temperature rise above pre-industrial levels, and to attempt to limit this to 1.5°C. According to climate scientists, to achieve this target, we must keep approximately 80 per cent of known fossil fuel reserves in the ground.

[QUOTE-START]
"We have faith that we can tackle climate change and build a more sustainable future, but we know this is only possible if fossil fuels remain underground."
- Meeting for Sufferings, February 2017.
[QUOTE-END]
Shale gas is a fossil fuel that requires a carbon-intensive extraction method named hydraulic fracturing - otherwise known as fracking. Quakers in Britain call for a ban on all intensive forms of fossil fuel extraction, including fracking, because extracting and burning these fuels is harmful to people and our planet. Instead of extracting new fossil fuels, we want investment in renewable, efficient energy that is affordable for all.
Unfortunately, fracking has support from the UK government and wealthy investors. The industry could seriously undermine the UK's ability to meet its commitments made under UN climate deals. However, there is a powerful civil society movement to stop fracking from getting established, and Quakers are part of that.
Quaker resistance to fracking
Across the country, Quakers are joining with others to resist fracking and build support for greener energy. As Chris Walker, Sustainability & Peace Programme Manager writes on the Quaker blog, it takes a village to go frack-free. Here's how Quakers have been resisting the fossil fuel companies.
Bringing spiritual concern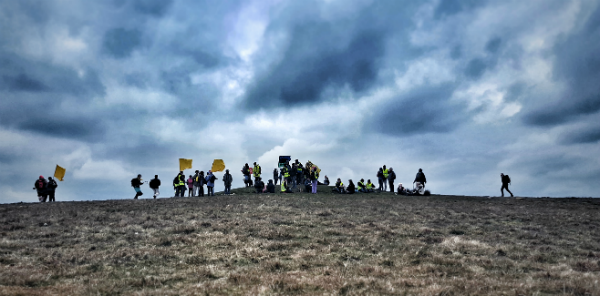 In 2017, local Quakers held a meeting for worship on top of Pendle Hill to bear witness against fracking in the surrounding Lancashire countryside. More than 150 people joined them. After the gathering at Pendle Hill, many Quakers returned to their communities to resist fracking and help work towards climate justice.
Quakers in West Sussex and North Yorkshire joined up with their local anti-fracking groups. Quaker support came in the form of food, company and meetings for worship at the gates. Read more about the experience of being part of the local anti-fracking community in West Sussex.

Working with others
When Quakers from across the North West of England joined regular demos at Preston New Road fracking site, they forged connections with fellow activists from other faith traditions. Together they set up a group called No Faith In Fracking (offsite link) and coordinated monthly vigils at the site. In 2018, No Faith In Fracking organised a full week of activity at the gates of Preston New Road bringing together Buddhists, Quakers and Catholics. The group made a video documenting why, as people of faith, they were witnessing against fracking.
Pressing play on the video below will set a third-party cookie. Please see our cookies page to find out more.
Quakers helped to keep Scotland frack-free