Quaker Living Wage Campaign
Lancaster Meeting has produced posters and leaflets and distributed these in their town during Quaker Equality Week and before the General Election in 2015. They now support other Quaker meetings in campaigning for businesses to become Living Wage Employers, contacting politicians about the Living Wage, and helping Quaker groups to work towards accreditation.

Read more about the Living Wage Campaign on Lancaster Quakers' website or find out how you can be involved by contacting livingwage@lancsquakers.org.uk.
[QUOTE-START]
Being in town for an hour at a time, engaging with passersby about those who do not pay The Living Wage and celebrating those who do, highlighted for us just how much support our campaign had. We were heartened and challenged in our encounters and encouraged by many who simply said thank you.
- Lancaster Quaker Living Wage Project Group
[QUOTE-END]
Quakers as Living Wage Employers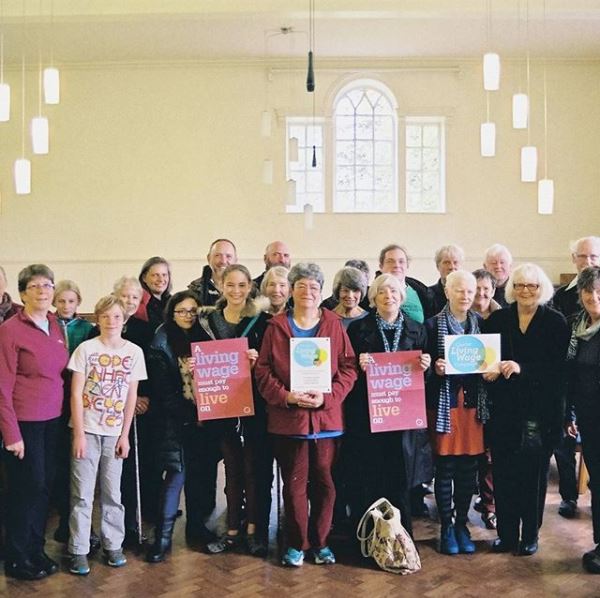 Manchester Area Meeting celebrate their Living Wage Accreditation. Photo: Manchester AM.
Fourteen Quaker organisations have so far become accredited Living Wage Employers and many more are working towards this goal.
Friends House Hospitality pays all its staff within a 1:4 ratio and above the London Living Wage, which is £9.40 per hour. Through their 'values on procurement and services' and pre-qualification tendering process they have also helped existing suppliers to make commitments to become Living Wage Employers.
Read more about Friends House Hospitality as a Living Wage Employer.