Average read time: 4 minutes
Spiritual preparation for Yearly Meeting
As the annual gathering of British Quakers draws near, Rhiannon Grant explores how Quakers can spiritually prepare for Yearly Meeting.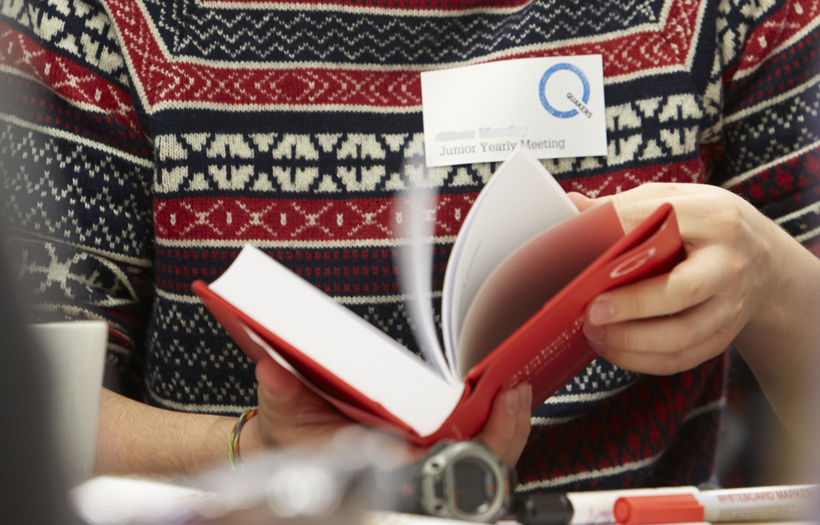 Yearly Meeting is the biggest event in many Quaker calendars. It's always important for us to come to meeting for worship with heart and mind prepared, whether that's our ordinary worship, our business meeting, or another event. Yearly Meeting is no exception.
[QUOTE-START]
[Yearly Meeting] was as important to [Mary Hughes] as 'going up to Jerusalem'. For weeks beforehand it came into her prayers in the morning, at meal times and with friends. She wished that God's power would be in the meetings, that people would go forth from them with a new vision of God's work for them, a new sensitiveness towards their fellows, especially the distressed.
- Rosa Hobhouse, Quaker faith & practice 6.11
[QUOTE-END]
How can we prepare for Yearly Meeting? I find I need to get the practical sorted before I can move on: where will I sleep, where's the food coming from, how will I get there?
After that comes prayer, as in the story about Mary Hughes. For some people this will be entirely private. For some this will be helped by something concrete, such as reading through the agenda carefully. For me, thinking of people I hope to see there and upholding them in their preparation is part of the process.
Reading Quaker faith & practice
To help us prepare, Yearly Meeting Agenda Committee offers guidance on spiritual preparation (PDF: section 3). This year, the agenda for Yearly Meeting focuses on the question of revising our book of discipline, currently Quaker faith & practice, and so this is the key theme of the spiritual preparation. As a member of the Book of Discipline Revision Preparation Group, I was asked to help write some suggestions for our spiritual preparation for this year – in a sense, my spiritual preparation began when the Revision Preparation Group first met back in 2014!
You might have started a while ago too, because the most important piece of preparation for Yearly Meeting this year is to read Quaker faith & practice. Many Quakers do this anyway; lots of meetings have worked on it specifically through the 'Reading Qf&p' project; and if you haven't, it's not too late. You could pick a few passages to read between now and Yearly Meeting. You could join in the short calendar, either independently or by following the project on Twitter or Facebook. And if you come to Yearly Meeting on the Friday afternoon, it's Still Not Too Late – look for a session of that name in the events listing (PDF) to get a very quick overview!
God, words and us
Another way to prepare for Yearly Meeting is to explore the issues around our religious differences. One way to do this would be to read God, words and us: Quakers in conversation about religious difference. The book explores some of the questions around nontheism, Christianity, theology, practice, and belief. At the back you'll find suggestions for holding a discussion in your meeting to take this consideration further.
Finally, you might like to spend some time reflecting on your relationship with Quaker faith & practice. For example, I've been thinking about how I consult it. I have the website version bookmarked in my browser and that's what I use most often. I also own paper copies, though – a fifth edition which I use for work and a third edition, the one I was given when I turned twenty-one, which I keep at home. That one's dog-eared and full of highlights and pencil notes on passages I especially like, or found helpful, or can't stand! They mark out parts I love and parts I struggle with.
These reflections will help me understand how I feel as we gather at Friends House to ask whether we should revise it or not. I'll be excited about the possibilities, scared about what could go wrong, and ready to embrace the way forward. How will you feel?