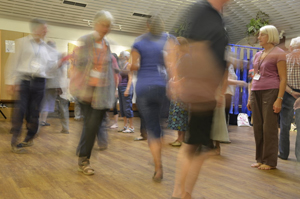 On Wednesday Yearly Meeting does not meet and we have an opportunity to do something different.
Offsite activities
Yearly Meeting Gathering is a 'build your own' Gathering. Many of the offsite activities are suggestions of things that you might like to decide to do on the day and at your own pace.

Other activities need to be booked. The deadline for bookings is 30 June.
Children and Young People's accompanied activities
There are some activities where Children and Young People's volunteers will accompany participants on the Young People's Programme and Junior Yearly Meeting. These all need to be booked in advance.
The deadline for booking is 30 June.
Onsite activities
For those who wish to stay on campus on Wednesday, we have arranged a number of activities you can take part in. Space may be limited on these and booking is recommended.
Photo: Platform 1 for Britain Yearly Meeting