What's wrong with fracking?
Under the 2015 UN Paris climate agreement, the UK committed to cut greenhouse gas emissions in line with a 2°C temperature rise above pre-industrial levels, and to attempt to limit this to 1.5°C. According to climate scientists, to achieve this target, we must keep approximately 80 per cent of known fossil fuel reserves in the ground.

[QUOTE-START]
"We have faith that we can tackle climate change and build a more sustainable future, but we know this is only possible if fossil fuels remain underground."
- Meeting for Sufferings, February 2017.
[QUOTE-END]
Shale gas is a fossil fuel that requires a carbon-intensive extraction method named hydraulic fracturing - otherwise known as fracking. Quakers in Britain call for a ban on all intensive forms of fossil fuel extraction, including fracking, because extracting and burning these fuels is harmful to people and our planet. Instead of extracting new fossil fuels, we want investment in renewable, efficient energy that is affordable for all.
Unfortunately, fracking has support from the UK government and wealthy investors. The industry could seriously undermine the UK's ability to meet its commitments made under UN climate deals. However, there is a powerful civil society movement to stop fracking from getting established, and Quakers are part of that.
Quaker resistance to fracking
Across the country, Quakers are joining with others to resist fracking and build support for greener energy. As Chris Walker, Sustainability & Peace Programme Manager writes on the Quaker blog, it takes a village to go frack-free. Here's how Quakers have been resisting the fossil fuel companies.
Bringing spiritual concern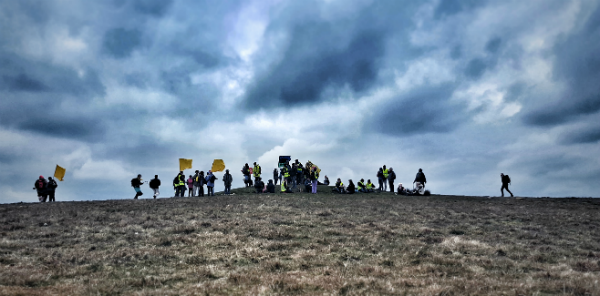 In May 2017, local Quakers held a meeting for worship on top of Pendle Hill to bear witness against fracking in the surrounding Lancashire countryside. More than 150 people joined them. After the gathering at Pendle Hill, many Quakers returned to their communities to resist fracking and help work towards climate justice.
Quakers in West Sussex and North Yorkshire have been joining with their local anti-fracking groups and looking at what, as Quakers, they could bring to the local resistance. Quaker support has come in the form of food, company and meetings for worship at the gates. Read more about the experience of being part of the local anti-fracking community in West Sussex.

Working with others
When Quakers from across the North West of England joined regular demos at Preston New Road fracking site, they forged connections with fellow activists from other faith traditions. Together they have set up a group called No Faith In Fracking (offsite link) and coordinate monthly vigils at the site. In April 2018 No Faith In Fracking organised a full week of activity at the gates of Preston New Road bringing together Buddhists, Quakers and Catholics. The group have also made this video documenting why, as people of faith, they are witnessing against fracking.
Quakers helped to keep Scotland frack-free
Take action
Respond to the UK government consultation
In 2017 the Scottish Government listened to the 99 per cent of people who responded to their consultation on fracking who did not support the fracking industry. A ban on fracking in Scotland is currently working its way through the Scottish legislative process.
Meanwhile fracking in England has been green-lit by the UK government. The government is also seeking powers to remove fracking planning permission decisions from local councils, and take those decisions from Westminster. They have opened a public consultation to find out if the public will endorse this unusual move. The consultation will be open until 25 October 2018.
Quakers in Britain have submitted a formal response (PDF). If you would like to respond to this consultation, take a look at this new briefing for Friends, prepared by the QPSW team.
Write to your MP
Now is an important time to contact your MP about keeping fossil fuels in the ground. No matter which party they are from it is worth contacting them, either to affect policy under the current government or the next one.
The current government has reaffirmed its commitment to the Paris climate deal, yet has given little detail about how it will cut emissions and move away from fossil fuels. You will find useful tips on how to make the case for action in our climate briefing (PDF).
We can help you and your meeting take action on fracking. Whether its contacting your MP, writing to the press, planning an action, or working with others in your community, we can provide information, advice and share news with Friends. Please get in touch using the contact details at the bottom of this page to find out more.
Upcoming trainings
In the coming months Quaker Peace & Social Witness are running two events for Quakers interested in changing the climate story. Both are free and both will equip attendees with the networks and skills that make political engagement more effective.
Quaker Activist Gathering 2018. Saturday 3 November, Lancaster.
A day of networking and building alliances for Quakers involved in activism. Those aged 16 upwards welcome. Booking deadline: 15 October. Register to attend.
Climate justice: a training on engaging politicians. Saturday 1 December, Manchester.
A day designed to help Friends find a Quaker voice in engaging politicians on climate change – whether it's a friendly MP or those who disagree with us. Booking deadline: 19 November. Find out more and book a place.