Talks begin towards a nuclear-free world
Historic talks begin today at the United Nations in New York that may lead to a world free of nuclear weapons. Quaker Tim Wallis will be observing and will report here his daily highlights.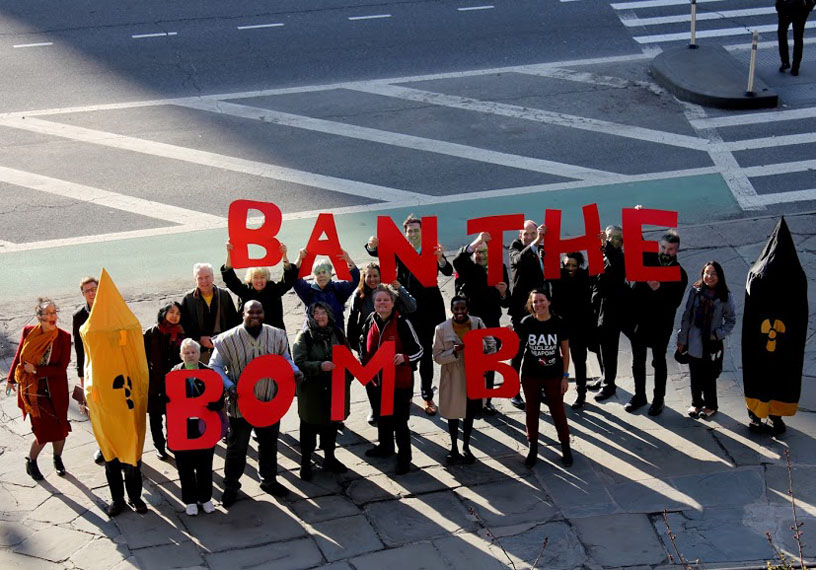 Delegates' opening remarks today show great expectations that they will agree a treaty on 7 July that will be a major step on the path to outlawing nuclear weapons. Quakers have campaigned against nuclear weapons since 1955 when their decision-making body, Meeting for Sufferings, said, "To rely on the possession of nuclear weapons as a deterrent is faithless; to use them is a sin."
While more than 150 countries are lined up to take part, the UK Government is staying away.
[QUOTE-START]
To rely on the possession of nuclear weapons as a deterrent is faithless; to use them is a sin.

- Meeting for Sufferings 1955
[QUOTE-END]
Tim Wallis will join the daily vigil, meet ambassadors, observe sessions and join marches. On Sunday, American Friends Service Committee has a conference at Brooklyn Friends Meeting House, called 'No Nukes, No Walls, No Warming'.
This round of the Nuclear Ban Treaty conference runs from 15 June until 7 July.

Tim Wallis attended the first round of these talks. He is representing Quakers in Britain and Quakers worldwide through Friends World Committee for Consultation.
Tim is programme manager for Quaker Peace & Social Witness and author of The Truth about Trident.

Highlights of the action
Friday 16 June
Today Tim Wallis led an early morning interfaith vigil.
Tim reported that the room was positively buzzing as the negotiations got under way, with a first draft of a nuclear ban treaty on the table and ready to be negotiated in detail.
Absent: many of the big European countries, including the UK.
Present : official delegates from nearly 90 countries and more than 100 observers from civil society. The countries of Africa, Latin America and Asia - and small island nations of the South Pacific - are finding their voice and letting it be heard in the halls of international diplomacy.
Contributions from Lichtenstein and Ukraine, not present till now.
Many countries need to be brought on board with this process, but the treaty will go ahead without them. Tim writes: "The priority for faith groups, however, is convincing more countries present at the negotiations to contribute to the discussion; convincing more countries who have said they support such a treaty to attend the negotiations; and convincing those countries who should know better to turn their backs on the US-UK love affair with nuclear weapons and to 'come out' firmly in favour of their elimination."
A few ambassadors attended our book launch for Disarming the Nuclear Argument, in Conference Room B at the UN. Thanks to the generosity of Abolition 2000 UK, a free copy is being given to each UN delegation.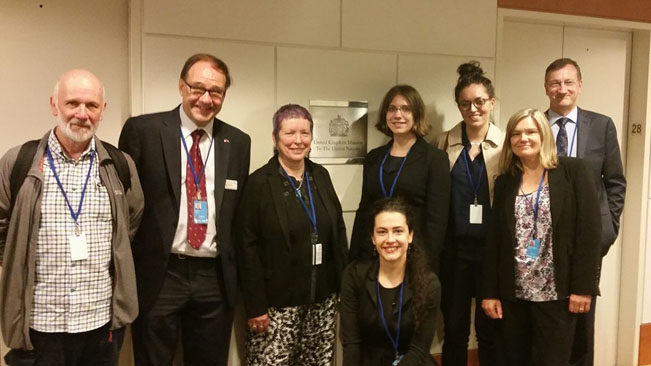 Saturday 17 June
Each day of the negotiations begins with an interfaith vigil outside the UN buildings. Today led by the World Council of Churches.
We had a constructive 'off-the-record' discussion with Mark Power. He is the Head of Political Affairs at the UK Mission to the UN. I gave him a copy of Disarming the Nuclear Argument, which he promised to read. An unofficial UK delegation to these negotiations is growing daily and now numbers eight.
Despite a torrential downpour flooding streets and turning placards into soggy rags, thousands joined an upbeat Women's March to Ban the Bomb, through central New York. The UK's only Green MP, Caroline Lucas, was a keynote speaker at the rally.
Sunday 18 June
Brooklyn Quaker Meeting House was packed out for a conference on nuclear disarmament, organised by Joseph Gerson of American Friends Service Committee (AFSC) and the group 'Peace and Planet'. There was a wide range of speakers, including from Japan, the Marshall Islands and New Zealand. They talked about the significance of the ban treaty and possible next steps to achieve the complete elimination of nuclear weapons.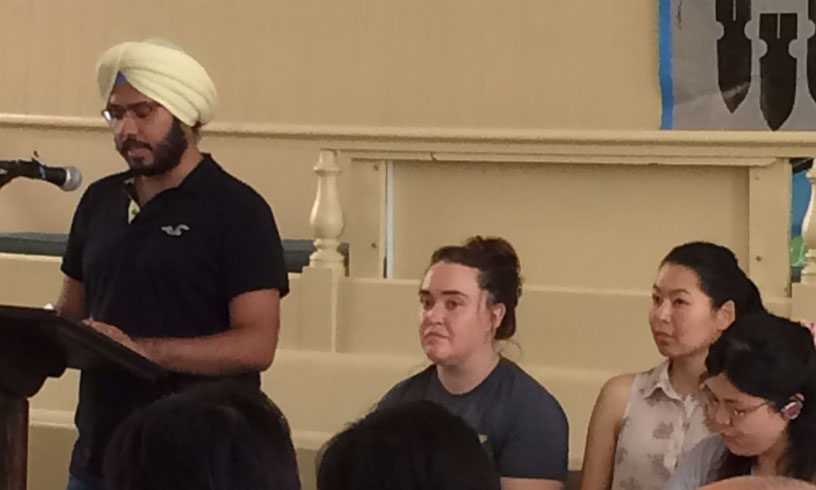 Monday 19 June

We handed out more than sixty copies of Disarming the Nuclear Argument to delegates. They appreciated the book because it will equip them to argue the case for a total ban on nuclear weapons with colleagues back home in Foreign Ministries - or with other diplomats here in New York.
At lunchtime, there was a demonstration by local New York peace groups protesting the US government's decision to boycott these negotiations. Protesters sat down in front of the US Mission to the UN and refused to leave. Several were arrested.
In the negotiations, differences are beginning to emerge between countries wanting a very simple, straightforward 'ban' of nuclear weapons and others wanting a more comprehensive treaty involving mechanisms for ensuring compliance and verification, etc. It is not clear yet how these differences will be resolved, but under the skilful leadership of Elayne Whyte of Costa Rica, most people here are in no doubt that they will find a way to resolve them.
Tuesday 20 June
While UN negotiations continue in Conference Room 1, my priority is talking to some delegations not in the room. Nearly 80 delegations have copies of the book. I have agreed to hand-deliver copies to some Missions that are scattered around New York City.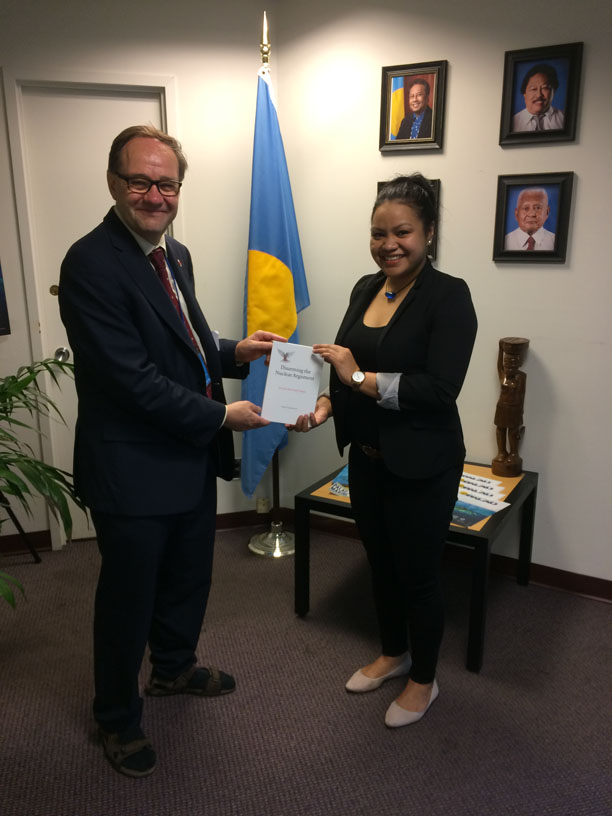 I first visited the Mission of Palau - a small island nation in the South Pacific. They are very supportive of the nuclear ban treaty but do not have enough staff in NY to be able to attend all the meetings at the UN. They received a copy of the book and were very friendly.
At the Mission of Malta to the UN, I was invited to meet the ambassador, Carmelo Inguanez. He promised to read the book while relaxing on the beach back in Malta. Malta is part of the Commonwealth and very pro-British in most respects, but they also value their neutrality and are very opposed to nuclear weapons.
[QUOTE-START]
Whenever the treaty is agreed, whatever it ends up saying, and whoever ends up signing it, this is history and it is going to make a difference.

- Tim Wallis
[QUOTE-END]
In a packed programme of side events today, was a session about national parliaments and their role in persuading governments to sign up to this treaty. Caroline Lucas spoke about the situation in the UK. Two MPs from the Netherlands explained how the Dutch parliament did force their government to attend the negotiations, even though they are under intense pressure from the US to boycott, along with other NATO members.
An MP from Germany told us very confidently that Germany will sooner or later sign this treaty. There is overwhelming support for it among the German population (93% according to one opinion poll). Elections in September could lead to a change of government.
Most people attending these negotiations remain optimistic.
Whenever the treaty is agreed, whatever it ends up saying, and whoever ends up signing it, this is history and it is going to make a difference!
This is my last UN report until I go back for the final session on 5-7 July.