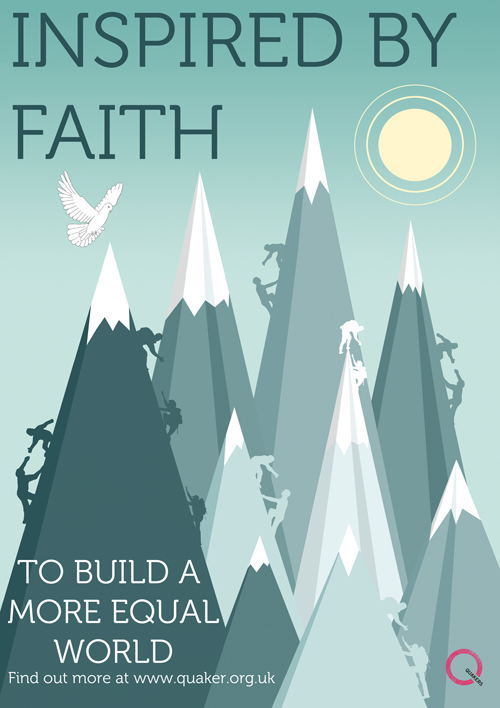 Living Wage
Birmingham Quakers' conference 'Food banks are not enough' stirred Ann Morgan to take action on the Living Wage. Thinking back, the emotion still overwhelms her: "As I sat listening, I had this incredible sense I had to do something," she remembers. "I was conscious of swathes of society affected by the low-wage economy but what could I do? I prayed and asked my meeting for support to test this leading. Two agreed to work with me and we made this the focus for a city-centre vigil."

Interviews on local radio followed.
Her meeting supported her in calling on major retailers in the city to pay the Living Wage, celebrating local organisations that do pay it and informing the public about why a Living Wage should be paid.
Supporting Maasai communities
Quakers are funding work for equality in Tanzania, where the entire Maasai culture is at risk because of climate change. Failed harvests after severe drought take men further distances to graze cattle while women and children are left, locked in a spiral of chronic food insecurity and poverty. A Quaker Peace & Social Witness Relief Grant applied for by Hemel Hempstead Quakers funds a project to provide training and support for Maasai women to help them develop climate change resilient income projects.
Equal marriage
In 2009 at our annual gathering, Quakers discerned that "love and truth compel Friends to solemnise the marriage of same-sex couples equally with opposite-sex couples."
"Quakers believe that same-sex marriage is important because we believe that we are all equal, and because we believe the quality of the love we offer to our partners is the same as everyone else's. The true measure of an intimate relationship is its degree of selfless love, a love that isn't proprietorial or exploitative, but tender, responsible, committed, equal; a love that feeds its transforming messages of hope and happiness benevolently into society day after day." Rosie Bailey, 2014 Quaker faith & practice 16:10 (offsite link)
Find out more about our work on social justice and how Quaker meetings are inspired to work in this area.